FSSAI Grace Period For Food Business Operators To Apply For Renewal Of Their License/Registration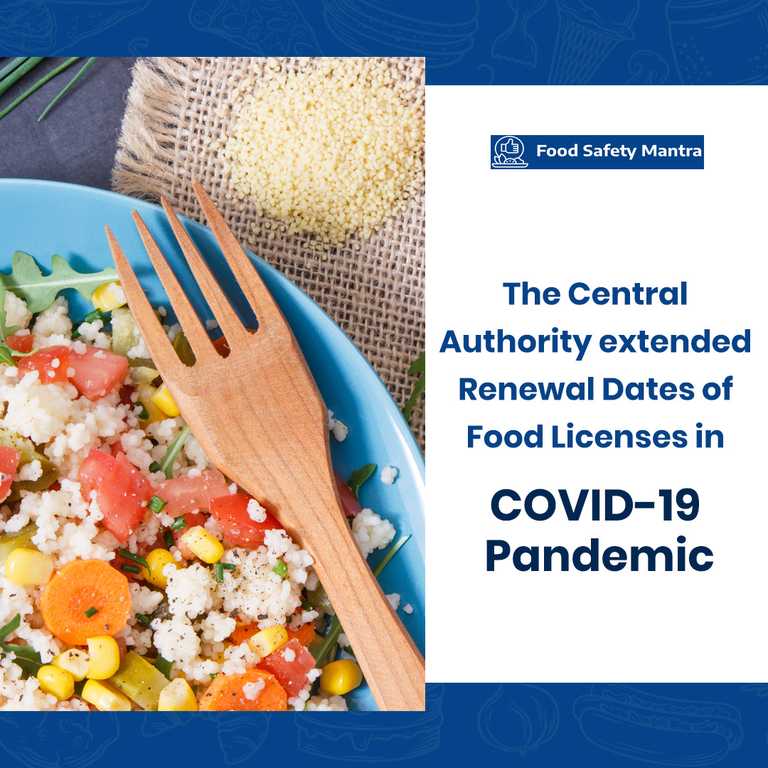 India is in complete lockdown to restrict the spread of COVID-19 pandemic since 25th March, 2020. 1.3 billion people of India except those involved in emergency services are within their houses because of this Central Government decision. Lock down aims to prevent spike of corona virus cases that can overwhelm the entire health system of the country. India is wrestling between disease control and maintaining all the businesses including food industry. Along with the other day to day activities, this lockdown has also affected some government-related functions like FSSAI licenses/registrations renewal of the Food Business Operators (FBOs) across India. Many of the FBOs generally take help from the State Help Desks, authorities, or food consultants for filing applications for renewal of their FSSAI licenses or registrations, which is not feasible in the present situation.
Looking into the present state of affairs, the Food Safety and Standards Authority of India (FSSAI) made some decisions to help the Food Business Operators (FBOs) after due consideration from various stakeholders. The important highlight of the decisions is mentioned below.
Key Points of the Notice for Renewal Timelines of Food Licenses/Registration
FSSAI has granted a grace period till 30 th June 2020, for application for renewal, without any late fee, to FBOs whose license/registration has expired/is expiring during the period 22 nd March 2020 to 31 st May 2020.
FSSAI had earlier in Oct. 2019 allowed FBOs, in UTs of Jammu and Kashmir and Ladakh, whose license/registration expired since 1 st Aug, 2019, to continue their business without renewal until the restoration of internet services. Although the internet has been restored now, the grace time period has still been extended keeping in view the current COVID-19 pandemic. So, the FBOs in the UTs of Jammu and Kashmir and Ladakh whose license/registration have expired/ is expiring in the time period of 1st August, 2019 to 31st May, 2020 are given a grace period till 30th June, 2020 to renew their licenses or registrations without any late fee payment.
The Competent Authority of FSSAI approved all these decisions. This order has brought smiles on the faces of hundreds of FBOs in the country and more so in the UTs of Jammu and Kashmir and Ladakh as it is supporting their continuation of business without panic in this hour of crisis.
References:
1.3 billion people. A 21-day lockdown. Can India curb the coronavirus? Available at:
https://www.sciencemag.org/news/2020/03/13-billion-people-21-day-lockdown-can-india-
curb-coronavirus. Accessed on 26 th April, 2020.
Order No. 15(6)2020/FLRS/RCD/FSSAI. Food Safety and Standards Authority of India.
Dated 13 th April, 2020.
Enquire Now
To enquire about our services please complete the form below and we will be in tough with you as soon as possible
Food Regulatory Services
Consumer Product
Compliance Services
Licenses