FSSAI Releases Guidance Document For Clean & Fresh Fruit & Vegetable Market Initiative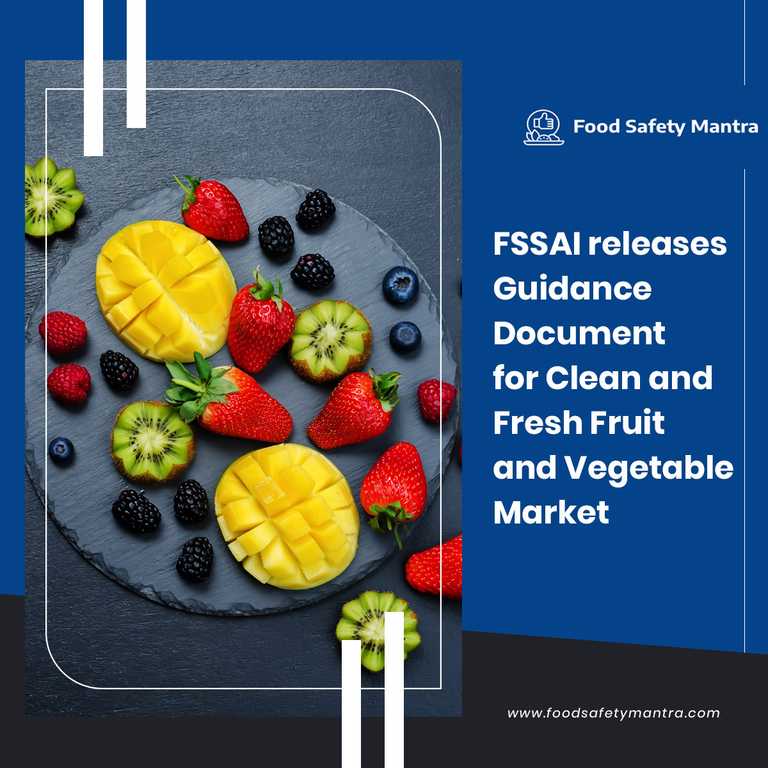 The Food and Standards Authority of India (FSSAI) has yet again come up with a new initiative called "Clean and Fresh Fruit and Vegetable Market" to ensure availability of good quality, safe and hygienic fruits and vegetables to the consumers and to boost potential economic growth by upgrading the unorganized retail sector of fruits and vegetables, since the organic/inorganic fruit and vegetable market in India is presently unorganized and lacks consumer trust.,.
Examples of retail sector categories for fresh produce are:
Organised food supply-Big Bazaar, Reliance Fresh, and Nature's Basket, etc.
Unorganized food supply-Pavement vendors, pushcart vegetable seller, or Mandi.
This initiative will integrate the local vendors with the organized retailers across the country.
FSSAI aims to achieve so through:
Infrastructure support like cold rooms, waste disposal area etc.
Large scale training, certification and capacity building of vendors
Providing guidelines for hygiene and safety requirements
Some of the salient points of the document released by FSSAI are:
BENCHMARK GUIDELINES
General Requirements

The vendors of fruits and vegetables need to be registered/licensed under Food Safety and Standards (Licensing and Registration of Food Business) Regulations 2011.
FSSAI Registration/Licence number and Food Safety Display Board (FSDB) with green colour code applicable to Fruit & Vegetable retail business shall be displayed on the cart/kiosk/shop.
Recruitment of a food safety team for communication and liasoning related to clean and fresh fruit and vegetable market.
Prohibition of sale of artificially ripened fruits by acetylene gas, commonly known as carbide gas.
The fruits may be artificially ripened by using ethylene gas obtained from any safe source up to 100 ppm. The source of ethylene gas shall not come in direct contact with fruits.
Stickers without any relevant information such as grade, price, bar-code, traceability, etc.
should not be used directly on fruits and vegetables. In case they are used, they must
not have any adverse effect on health.
Usage of a functional barrier preventing stickers directly on fruits and vegetables. Few fruits may be packed in transparent thin film on which good quality.
All fruits and vegetables sold in the market shall be free from colouring matter, mineral oils or any other harmful chemicals.
Wax coating of fruits shall be done only with beeswax (white and yellow) or carnauba wax or shellac wax at level not exceeding Good Manufacturing Practices.
Every package of fresh fruit if coated with wax shall carry the label "Coated with wax (give name of wax)

Food Safety and Hygiene Requirement

Personal Hygiene

Protective clothing and footwear for all vendors and food handlers.
Washing hands with soap or detergent and water before starting work and every time after using the toilet.
Any cuts or wounds to be covered properly and sick vendors should not be allowed to handle fresh produce.
All staff or sub-contractors should be made aware of the hygiene and health principles before entering a premise or commencing work.

Location and Facilities

The location of the market should be away from environmental pollution and industrial area producing toxic gases.
The premises shall be clean, adequately lighted and ventilated and have sufficient free space to allow easy movement of persons and materials.
A designated area for storing packaging material, clothes, shoes, ripening agents, cleaning agents, water, etc. shall be maintained to avoid contact with food products.
Maintenance of adequate drainage facility.
Identification of the designated area for loading and unloading of fruits and vegetables in distribution vehicles.
Installing equipment such as cooling chambers, moisture retention chambers, ripening chambers at these markets.
Covering open-air markets, vending shops/stalls/carts/kiosks with canopy, plastic or metal sheets, etc. to prevent fruits and vegetables from direct sunlight, which may result in moisture loss.
There shall be appropriate toilets and hand washing facilities with clean water, soap. It shall be kept clean and hygienic.
Entry of wild animals, pets shall be prevented by fencing, hedges, gates, etc.

Cleaning and Sanitation

Platforms or display units shall be of material so as not to affect the fruits and vegetables by metal contaminants, chipping surfaces, paints, loose nails, glass pieces, etc.
Display units/crates/trays shall be cleaned and disinfected regularly, after use and after any spillages.
The equipment and cutting tools (knives, boards, etc.), which may come in contact with fruits and vegetables, shall be of rust/corrosion-resistant materials and kept in clean and good condition.

Handing of Fruits and Vegetables

Careful handling and stacking of fruits and vegetables when putting on displays to avoid bruising and product damage.
The organic fruits and vegetables shall be displayed and stored in a manner that it shall be distinguishable from the non-organic ones.
Discarding any fruit or vegetable cut for display after use.
Regular rotation of fruits and vegetables for sale to follow FIFO (FIFO-first in first out – use items first, which you bought first). The fruits and vegetables which require some time for ripening may be sold upon ripening later.

Water Supply and Quality

Only potable water shall be used wherever it comes in direct contact with fruits and vegetables such as washing, sprinkling etc.Analysis of the quality of water after every six months by third party laboratory.
Analysis of the quality of water after every six months by third party laboratory.

Pest Control

Appropriate measures and regular pest control by every vendor to keep the premises pest-free to prevent contamination of food.
Damaged fruits and vegetables should be segregated and disposed immediately.

Waste Disposal
Two types of wastes generated in the fruit and vegetable shops are:

Fruits and vegetables waste (FVWs)
Other waste includes corrugated boxes, metals, woods, plastic crates, and other composite wastes.

Provision for handling wastes and installation of separate bins for wet and dry waste must be in place by every vendor.

Sources of Fruits and Vegetables and Traceability

Sourcing of fruits and vegetables from the area/fields having high levels of heavy metals in the soil may be discouraged.
Sourcing of fruits and vegetables from authentic producers and suppliers and records of their details need to be maintained.
All organic fruits and vegetable suppliers shall have appropriate certification and comply with Food Safety & Standards (Organic Foods) Regulations, 2017.

Storage of Fruits and Vegetables

Adequate number of racks, crates shall be provided for Storage to allow good air circulation.
Contamination of fruits and vegetables by other products such as cleaning agents, insecticides, and packaging material shall not occur.
Fruits and vegetables not sold at the end of the day should be stored appropriately as per its storage temperature requirements like green leafy vegetables should be stored at refrigerated temperature (4°C – 6°C)
Organic fruits and vegetables shall be stored separately from non-organic with proper identification labels.
Damaged and spoiled fruits and vegetables shall be stored separately for further disposal.

Transportation of Fruits and VegetablesAll transportation vehicles/lorry shall be inspected before unloading or loading by competent personnel to ensure it is sanitary, structurally sound, and has not or will not promote deterioration, contamination, or damage to the commodity such as due to insects, weather etc.
Education and Training
All vendors, helpers, and handlers should undergo basic training in personal hygiene, including effective hand-washing and handling of fruits and vegetables.
Record Keeping
All incoming and outgoing transportation vehicles in the market should be inspected and records
shall be maintained for the same.
STANDARD OPERATING PROCEDURE (SOP) FOR THE INITIATIVE
Vegetable Markets Identification: Under this project, the local authorities will identify and recommend a local market or geographical area on a specific road with an accumulation of fruit and vegetable vendors to FSSAI.
State FDA will inspect Pre-audit vendors of fruit and vegetable markets for gap analysis, and FSSAI impaneled auditing agency.
Implementation, which includes training, compliance submission.
Final Audit shall be conducted by the same FSSAI impaneled auditing agency that did the first gap analysis and assessment shall be sent to FSSAI before certification as Clean and Fresh Fruit and Vegetable Market.
after examination of report, FSSAI shall certify the market as "Clean and fresh fruits and
vegetables market" with a validity of one year.
Sustainability of certificate will involve satisfactory routine inspection of all vendors on monthly basis. Testing from FSSAI notified lab must be done once in six months for fruits, vegetables, and water to check the presence of harmful colours, pesticides, and metal contaminants.
Renewal of certificates will be provided based on consistent satisfactory performance throughout the year and positive audit report at the end of the year.
IMPLEMENTATION PARTNERS
Various stakeholders in this initiative.
DIGITAL INTEGRATION
Creation of a digital platform for collating information of organic and inorganic fruits and vegetable vendors, which shall help thee-commerce businesses and retailers to track range of fruits and vegetables available in Clean and Fresh Fruits & Vegetables Markets. Integration of technology and various government schemes will help in the success of Clean and Fresh Fruit and Vegetable Market Initiative.
To check out a list of annexures provided in the guidance and know more about this initiative,
click on the reference in the article.
References:
Guidance Note / Document on Clean and Fresh Fruit and Vegetable Market. Available at:  https://fssai.gov.in/upload/uploadfiles/files/Guidance_Document_Clean_Fresh_Fruit_Vegetable_11_05_2020.pdf  Accessible on 26th May, 2020.
Enquire Now
To enquire about our services please complete the form below and we will be in tough with you as soon as possible
Food Regulatory Services
Consumer Product
Compliance Services
Licenses