FOOD SAFETY AND STANDARD (AYURVEDA AAHARA) REGULATIONS, 2021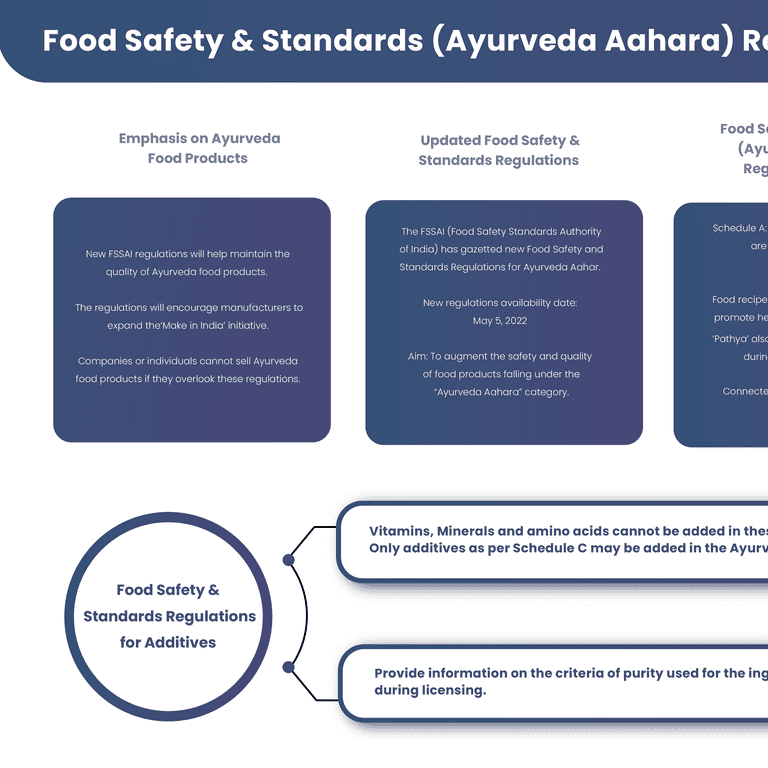 Food Safety & Standards (Ayurveda Aahara) Regulations, 2021
Ayurveda aahara can be termed as the food prepared as per steps using the same recipes or ingredients and/or processes as per the procedure described in the Ayurveda books which are listed under 'Schedule A' of these regulations.
It also includes all those products which consist of botanical ingredients as per the rules and concept of Ayurveda Aahar.
It does not include ayurvedic drugs or proprietary Ayurvedic medicines and medicinal products, cosmetics, etc. listed under schedule E of the Drug and Cosmetic Act, 1940 and rules 1945.
 Ayurveda Aahara Regulations
As per the regulations, the manufacturing and marketing of "Ayurveda Aahara" products will now be regulated strictly as per the Food Safety and Standards (Ayurveda Aahara) Regulations, 2022. And Ayurveda Aahara products will be available in the market if they have license/ approval from FSSAI.
As per this regulation, any food prepared as per the rules and recipes/ ingredients mentioned in the books of Ayurveda can be termed as Ayurveda Aahara.
Schedule A-List of authoritative books for Ayurveda Aahara
All those food recipes and ingredients mentioned in the book which promoted health, physical needs and food mentioned to consume during or after the disease, or disorders can be called "Pathya", which is also regulated under these regulations.

The "Ayurveda Aahara" does not include any ayurvedic medicines or drugs or products, cosmetics, narcotics, or drugs related to mental illness.

Under the Ministry of Ayush, an expert committee is formed which consists of relevant experts, and FSSAI representatives who are helping by providing their advice on approval of claims made and also addressing the issues related to registration, licensing, certificates, testing, and quality of Ayurveda food products.

If Ayurveda Aahara need prior approval as per Schedule B of these regulations, the same shall be in accordance with the Food Safety and Standards (Approval for Non-Specific Food and Food Ingredients) Regulation, 2017.

The products covered under contaminants regulations shall comply with the safety requirements which are specially specified in Schedule D of these regulations.

Any food item which is packed and is used in daily life for dietary purposes for eg., pulses, rice, flour, vegetable, and other foods specified under Food Safety and Standards Regulations are not allowed to be covered under these regulations unless otherwise, they meet the requirements of these regulations.

Minimally processed food items involving processes such as cleaning, polishing, dehiscing, and grading do not come under these regulations.

For the new-born or infants


Manufacturers are not allowed to manufacture or sell Ayurveda Aahara whose target customers are up to the age of 24 months OR 2 years of age which means infants up to the age of 24 months or 2 years cannot be administrated Ayurveda aahara.

Requirements of labelling along with logo

A special logo has been designed for the Ayurveda Aahara, a category so that the Ayurveda aahara products can be identified easily and can support the quality of Ayurveda food products.

The labeling of "Ayurveda Aahara" needs to mention the intended uses, the customers they are targeting, duration of use, quantity to use, and other important things.

It will be mandatory for manufacturers of Ayurveda food products to display the logo with the warning stating "strictly for dietary purpose and use" on the label.

The word AYURVEDA AAHARA needs to be printed close to the brand name of the product.

The labeling should have a warning or precautions wherever necessary about the side effects if any;

A warning about the way of consumption of product whether oral consumption or any other use.

The regulations also stated that no one is allowed to market the products with claims of treating or curing the diseases. Thus, no advertisement or label on Ayurveda food products can claim that they have the power to cure or treat any human disease.

Even if still manufacturers want to claim that their product can "reduce the disease risk" then they have to take "based on evidence prior approval" from the food safety authority of India. For any claims related to health, no such approval would be required if the claims have evidence from the Ayurveda texts.

Regulations for Additives


The regulations also consist of a list of additives that are permitted to use in Ayurveda Aahara. It is also stated that vitamins, minerals, and amino acids cannot be used in these products.

The manufacturer needs to make a declaration on the natural presence of vitamins and minerals in Ayurveda food products.

The manufacturer also needs to provide information on the criteria of purity used for the ingredients during the licensing and any changes.

The only food additives allowed to use are mentioned in schedule C of these regulations.
SCHEDULE C- LIST OF ADDITIVES
As per the agreement with Food Safety and Standards Act 2006, the Food Safety Standards Authority of India (FSSAI) had drafted regulations on "Food Safety and Standards (Ayurveda Aahar) Regulation 2021".

The rules and regulations are available to the public from 5

th

July 2021.

These regulations can be termed the Food Safety and Standards (Ayurveda Aahara) Regulations, 2022.

This is the first time in India that separate regulations have been formed especially for Ayurveda Aahara.
SUMMARY-
The Food Safety and Standards Authority of India (FSSAI) along with the ministry of Ayush have formed regulations to control the quality and increase the safety of food products falling under the "Ayurveda Aahara" category.

The main aim of these regulations is to ensure that while manufacturing the Ayurveda food products quality is maintained and will help India to further expand its "Make In India" products to other countries.

No person will be allowed to manufacture, sell, or market Ayurveda products if they fail to follow these regulations

The Food Safety and Standards Authority of India (FSSAI) was established under the Food and Safety Act, 2006 which consists of various acts and orders that inform how to handle various issues in ministries and departments related to food.

"Schedule" here means a schedule mentioned in these regulations.
Enquire Now
To enquire about our services please complete the form below and we will be in tough with you as soon as possible
Food Regulatory Services
Consumer Product
Compliance Services
Licenses