FSSAI Re-Operationalizes Licensing And Registration Amendment Regulations 2020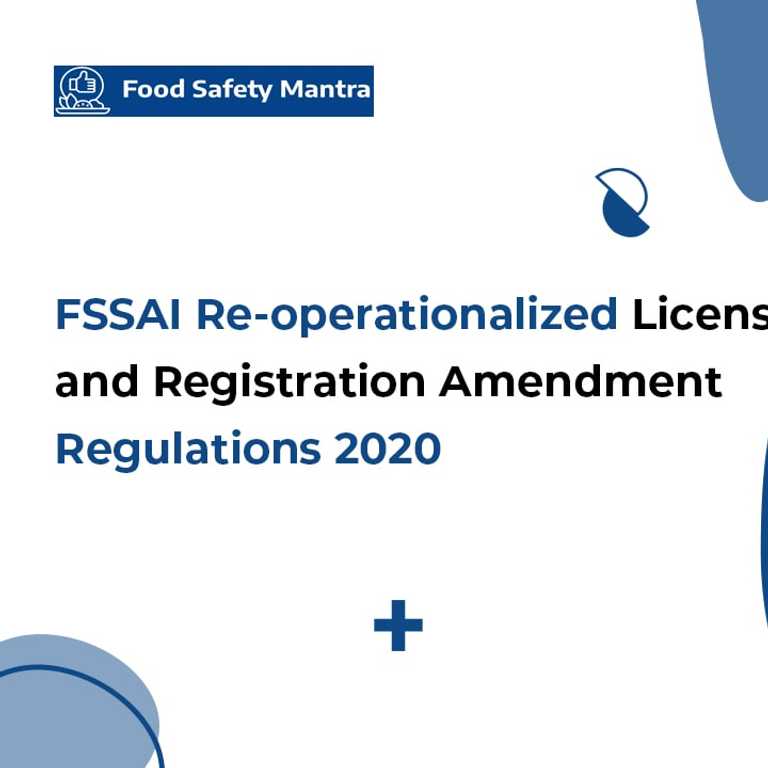 The Food Safety and Standards Authority of India (FSSAI) has issued a draft to re-operationalize the Food Safety and Standards (Licensing and Registration of Food Business) Amendment Regulations 2020 with immediate effect from 27th March 2021. However, the draft of this regulation was notified in November last year, and FSSAI invited comments from the stakeholders.
There is time to finalize these regulations, it has been decided by the Food Authority to re-operationalise FSS (Licensing and Registration) Amendment Regulations 2020 from March 27th, 2021. The regulation is related to testing, inspection, and appointment of food safety supervisors for food businesses.
Key Highlights of the sub-regulation
Fee and other charges
The food authority prescribed fees and charges as per section 82 of the Act. There will be a penalty to the FBO if there is non-payment of fees.
Testing
Anyone holding a manufacturing or processing license should strategize a plan of testing to monitor the quality of production and operations. Moreover, the processes should be in compliance with the existing regulations and standards. However, FSSAI must provide the periodicity of the tests carried out on the categories or products.
Inspection and Audit
These regulations also lay rules for periodic inspection and audit of the food businesses. Under these regulations the commissioners of food safety shall draw plans for periodic inspection of food businesses in their respective jurisdiction based on risk assessment with food and establishments. Also, according to the regulations, the FSSAI Central Advisory Committee can approve a checklist for the inspection of different kinds of food businesses
FBOs need to get the hygiene rating for his business from the food regulator.
Food safety supervisors
FBOs should conduct training of the food safety supervisors as per training programmes of FSSAI. The authority must compile the specifics of training and also the minimum number of Food Safety Supervisors needed for any Food Business Operator. Food Safety Supervisor will monitor the food handlers and their training.
Scheme for facilitators
The food apex regulator will choose an individual or organization to facilitate the food business operators applying for FSSAI registration and license and even auditors for hygiene rating.
The FBOs were asked to comply with these regulations with immediate effect. However, the enforcement related to these regulations would only be done after the publishing of these regulations in the official Gazette of India.
Reference
File No. 15(6) 2017/FLRS/RCD/FSSAI. Food Safety and Standards Authority of India. Available at: https://www.fssai.gov.in/upload/advisories/2021/04/606af2ff5dde5Direction_Operationalisation_FSS_Licensing_Registration_05_04_2021.pdf .Accessed on 9th May, 2021.
Enquire Now
To enquire about our services please complete the form below and we will be in tough with you as soon as possible
Food Regulatory Services
Consumer Product
Compliance Services
Licenses