FSSAI Issues Advisory For Strict Compliance Of Infant Milk Substitutes, Feeding Bottles and Infant Food as Per The IMS Act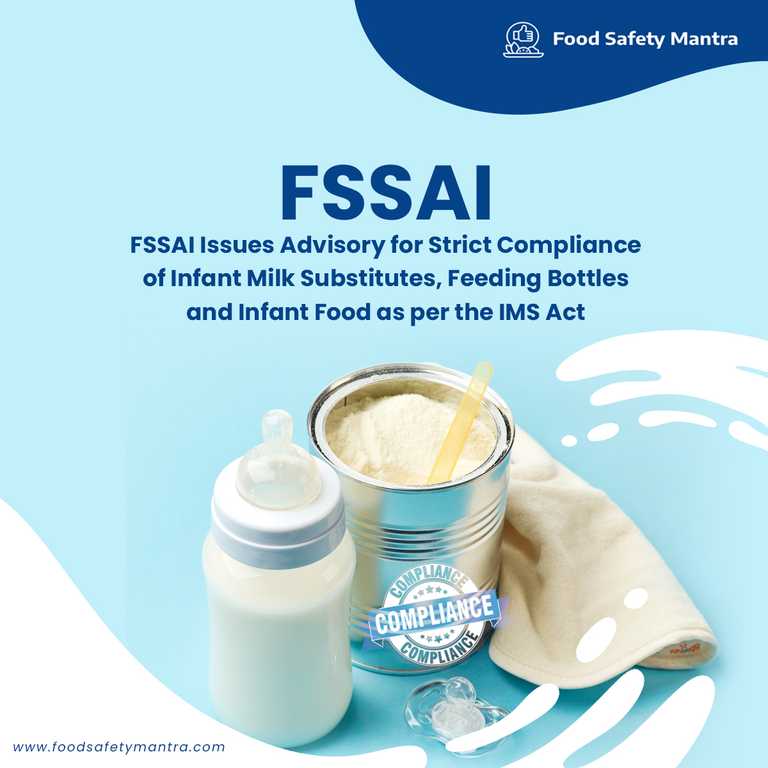 FSSAI Issues Advisory for Strict Compliance of Infant Milk Substitutes, Feeding Bottles and Infant Food as per the IMS Act
Rapid lifestyle changes with urbanization and high craze for quality baby food products encourage consumers to opt for baby food substitutes in this era. These days parenting concerns are growing, and panic is increasing for fulfilling the nutritional need of their babies at an early growing age. This is expected to surge the demand for baby food in India. Parents always want to give their babies the best and easily get appalled by the commercial baby food available. Advertising and stealth marketing have divergent effects on young parents' food- related knowledge, attitudes, buying behavior, and preferences. But most of the infant food substitutes available in the market have less nutritional value.
The Food Safety and Standards Authority of India (FSSAI) on September 08, 2020 has released an advisory for strict compliance with provisions of Infant Milk Substitutes, Feeding Bottles and Infant Food (Regulation of Production, Supply and Distribution) Act, 1992 (The IMS Act). Under Section 3 and 4 of the IMS Act, the advertising, promotions and incentivizing the use or sale of infant milk substitutes or feeding bottles or infant foods are strictly prohibited. Also, inducing healthcare workers for promoting use of infant milk substitutes, etc., including funding of seminars, meetings, conferences, educational courses, contests, fellowships, research work or sponsorship are also prohibited. Moreover, as per the Section 23 of the IMS Act, the offences are cognizable and the penalties may lead to imprisonment for a term which can extend to three years.
The FSSAI has directed all Food Business Operators (FBO) including all the Ecommerce sites to strictly follow the provisions of the IMS Act, 1992 and desist from adopting surrogate promotions. Accordingly, all the CLAs/Designated Officers of FSSAI and the Commissioners of Food Safety of all States/UTs are instructed to closely monitor the products and promotional activities of the concerned FBOs including any sister non-profit or otherwise association, institute established by these FBOs and in case any violation is noticed then strict legal action may be initiated.
As per Section-100 of FSSAI Act, 2006 read with Section-21 (1) (a) Infant Milk Substitutes, Feeding Bottles and Infant Food (Regulation of Production, Supply and Distribution) Act, 1992 (41 of 1992), also known as the 'IMS Act', a Designated Officer can make a written complaint to the court for awareness of any offence punishable under the IMS Act.
If any actions are taken against this advisory, the report for the same can be shared with FSSAI on time to time basis.
References:
1.5f588003d3788Direction_Compliance_Infant_Food_09_09_2020.pdf.Available at:
https://www.fssai.gov.in/upload/advisories/2020/09/5f588003d3788Direction_Compliance_Infant_Food_09_09_2020.pdf . Accessed on 25 th September, 2020.
Enquire Now
To enquire about our services please complete the form below and we will be in tough with you as soon as possible
Food Regulatory Services
Consumer Product
Compliance Services
Licenses