FSSAI calls for strict compliance of Labelling Requirements Of Products Covered Under FSS (Food and Health Supplements, Nutraceuticals, Foods for Dietary Use, Foods for Special Medical Purpose, Functional Foods, And Novel Foods) Regulations, 2016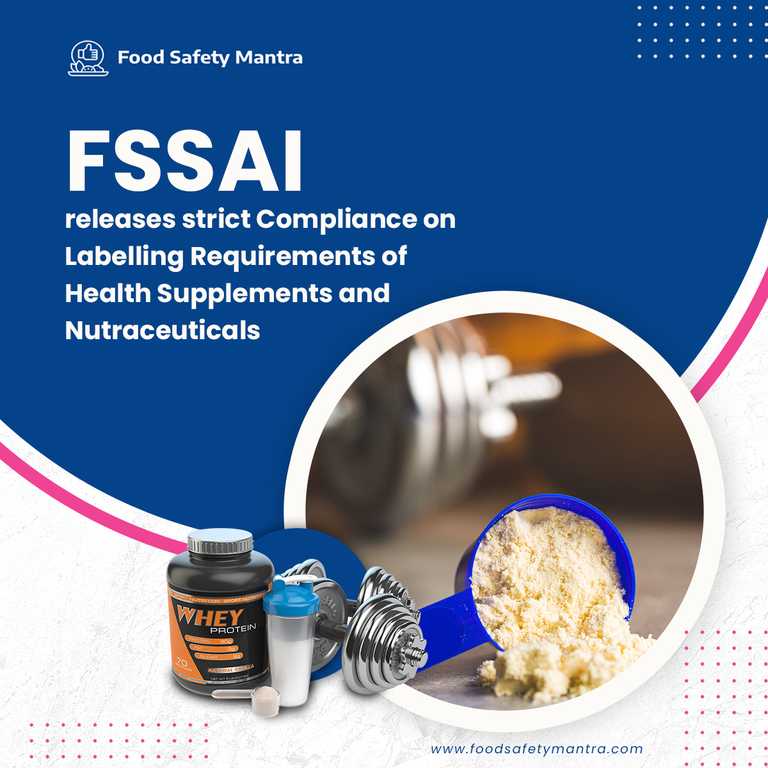 FSSAI calls for strict compliance of Labelling Requirements of products covered under FSS (Food and Health Supplements, Nutraceuticals, Foods for Dietary Use, Foods for Special Medical Purpose, Functional Foods, and Novel Foods) Regulations, 2016
The market for dietary supplements and nutraceuticals, that promise to improve the fast-paced millennial generation's health, is enormous. Transformation in food habits, less physical work, more desk jobs have made people more vulnerable to lifestyle ailments. In India, the health supplements and nutraceuticals market is expected to grow to $ 18 billion in 2025 in the backdrop of rising demand for health supplements from the affluence of the working population with changing lifestyles and dietary patterns and increased disposable income.
The consumers themselves make most decisions to use supplements. However, they are not necessarily safe for everybody. Like regular drugs, supplements with active ingredients that provide a physiological or pharmacological effect are likely also to cause adverse effects in susceptible individuals. Dietary supplements can be brought to the market without the support of clinical trials; there is a paucity of systematic studies of adverse effects. So, many functional foods and nutraceuticals are becoming increasingly available in the marketplace. The most commonly used health supplements are multivitamin or mineral supplements, calcium supplements, and omega-3/fish oil.
To regulate these products, FSSAI had notified FSS (Food and Health Supplements, Nutraceuticals, Foods for Dietary Use, Foods for Special Medical Purpose, Functional Foods, and Novel Foods) Regulations in 2016. Any food item falling under these regulations need to comply with the general labelling requirements of FSS (Packaging and Labelling) Regulations, 2011 as well as category specific labelling provisions stated in the above said Nutraceuticals Regulations.
FSSAI recently released a letter calling out to Directors of Regional Offices and Commissioners of Food Safety of all States/UTs, to ensure strict compliance of labelling regulations for all such license holders under their jurisdiction.
Main points to note from the Regulations
The label should specify the purpose, targeted consumer group, the physiological state or disease conditions that the food article addresses along with the recommended usage and duration of such use.
The label, leaflet in a particular product, and the advertisement should give enough information on the nature and purpose of the food product. Detailed instructions, warnings, contraindications and precautions of use need to be well documented.
The Food Safety and Standards Authority of India (FSSAI) aims that regulations for such dietary supplements in India are at par with international standards thereby encouraging new entrepreneurs to enter this field and this is one such step in the right direction for safer products providing abundance of options to consumers trying to make better informed choices.
References:
FSSAI 5f3267e31a228 Letter_FSS_Health_Supplements_11_08_2020.pdf.Available at: https://fssai.gov.in/upload/advisories/2020/08/5f3267e31a228Letter_FSS_Health_Suppleme nts_11_08_2020.pdf . Accessed on 27.08.20.
Enquire Now
To enquire about our services please complete the form below and we will be in tough with you as soon as possible
Food Regulatory Services
Consumer Product
Compliance Services
Licenses