Sterner Surveillance And Enforcement To Prohibit The Sale Of Health Supplements And Nutraceuticals Containing Banned Ingredients Such As PABA.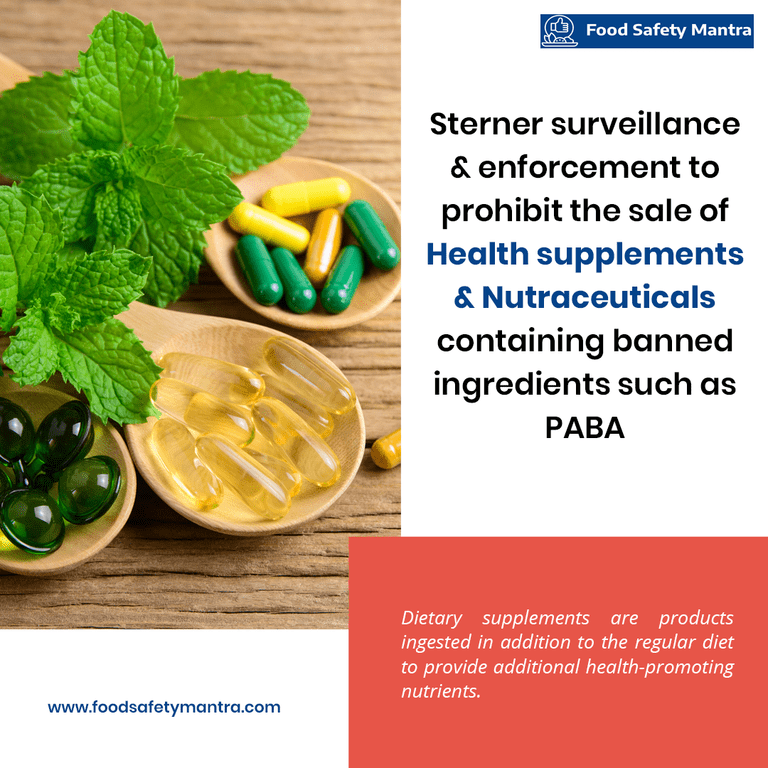 Sterner Surveillance And Enforcement To FSSAI Prohibits The Sale Of Health Supplements And Nutraceuticals
Containing banned ingredients such as PABA
Dietary supplements are products ingested in addition to the regular diet to provide additional health-promoting nutrients. The intake of dietary supplements is generally safe, but not totally without risk. Some Healthcare supplements and nutraceuticals may contain banned ingredients, and they may also be adulterated with drugs.
FSSAI has banned certain ingredients for use in such products. However, both the e-commerce and the retail market are flooded with health supplements and nutraceutical products containing ingredients such as PABA that are already banned due to safety concerns since 2018. To screen and ensure safety and conformity to quality standards of healthcare supplements and nutraceuticals, the Food Safety and Standards Authority of India (FSSAI) has recently (July 2020) come out with an order for the Commissioner of Food Safety in every state and Union Territories to carry out strict surveillance and enforcement.
Key Decisions of FSSAI regarding banned ingredients in Health Supplement and Nutraceuticals
FBOs no longer permitted to use Succinic acid and Inosine in products covered under Nutraceutical Regulations.
Use of ingredients namely Para Amino Benzoic Acid (PABA), Vanadium, Prenolit and Selenium dioxide in nutraceutical products no longer allowed.
The use of D-ribose in health supplements/ nutraceuticals is no longer allowed.If manufacturers want to produce Food for Special Medical Purpose or Food for Special Dietary Use containing D-ribose they need to approach the apex regulator of food for prior approval.
FBOs need to discontinue the use of ingredients like Ipriflavone and Polypodium leucotomos in nutraceutical product immediately as they have properties of a drug.
Discontinuation of the use of ingredients like Artichoke, Kale powder, Salvia hispanica, Cashew fruit, Passion fruit, Kiwi fruit extract, Broccoli, or enzymes such as Pectinase and Xylanase in health supplements or nutraceuticals. However, the same can be used as general ingredients without claiming any benefits, provided they are approved under FSSR.
Under the Nutraceutical Regulations, FBOs shall discontinue the manufacture of nutraceutical products using ingredients listed below
Raspberry ketone
Silica
Angelica Sinensis
Paullinia cupana
Saw palmetto
Notoginseng
Chlorella Growth factor
Pine bark extracted from Pinus radiata
Pine bark extract from Pinus pinaster
Chaga extract (Inonotus obliquus)
Oxalobacter formigenes
Tea tee oil
All these decisions are with the approval of FSSAI under Section 16(5) of Food Safety and Standards Act, 2006
References:
Letter_Surveillance_Enforcement_Sell_HealthSuppliments_16_07_2020.pdf.Available at: https://www.fssai.gov.in/upload/advisories/2020/07/5f1035178000aLetter_Surveillance_ Enforcement_Sell_HealthSuppliments_16_07_2020.pdf. Accessed on 28 th July, 2020.
Enquire Now
To enquire about our services please complete the form below and we will be in tough with you as soon as possible
Food Regulatory Services
Consumer Product
Compliance Services
Licenses