FSSAI Standards For Pepper White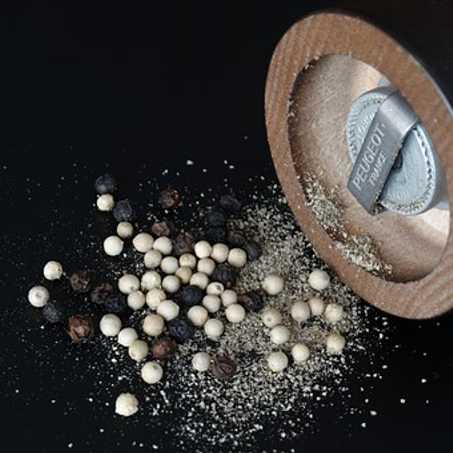 Pepper is one of the most popular spices used as a seasoning all over the world. The value of the pepper market is worth $4.69 billion. It is growing by 9 percent in value and 4 percent in quantity between 2012 and 2016. The demand for pepper suggests that people's palettes continue to demand pepper's warm, earthy flavor. Pepper is known as the "king of spices" and "black gold," used in ancient Chinese and Indian Food. There are various health benefits of pepper due to its active component 'Piperine'.
The Health Benefits of White Pepper:
§  Anti-inflammatory
§  Antioxidant
§  Antihypertensive
§  Immunomodulatory
Adding white pepper to your meals may make it easier for your body to absorb many nutrients of the food you are eating. Pepper itself also contains some nutrients, including manganese,
Even though spices are generally used in very small amounts, they at times, are a carrier of microbial and fungal contamination due to the conditions under which they were grown, harvested and produced. The presence of microbial and fungal toxins more than a certain amount in pepper can be very harmful to consumers. Thus, the apex food regulatory body of India, FSSAI came out with standards for white pepper in the Food Safety and Standards (Food Products Standards and Food Additives) Regulations, 2011.
According to the regulations, Pepper White whole are the dried berries of Piper nigrum L. from which the outer layer is removed. It is done with or without preliminary soaking in water and subsequent drying. The color of the berries needs to be light brown to white with a smooth surface. The berries on grinding shall have a characteristic aromatic flavor. They should be free from mustiness. It should be free from mold, living and dead insects, insect fragments, and rodent contamination. The product shall be free from any added coloring agents and any other harmful substances.
 FSSAI standards of Pepper White:
| | | |
| --- | --- | --- |
| 1. | Extraneous matter | Not more than 0.8 % by weight |
| 2. | Broken berries | Not more than 3.0 % by weight |
| 3. | Blackberries | Not more than 5.0% by weight |
| 4. | Bulk Density(gm/litre) | Not less than 600 % by weight |
| 5. | Moisture | Not more than 13.0 % by weight |
| 6. | Total ash on a dry basis | Not more than 3.5% by weight |
| 7. | Non-volatile ether extract on a dry basis | Not less than 6.5% by weight |
| 8. | Volatile oil content on a dry basis | Not less than 1.0 % by v/w |
| 9. | Peperine content on a dry basis | Not less than 4.0 % by weight |
| 10. | Insect damaged matter | Not more than 1.0 % by weight |
According to the McCormick Science Institute notes that pepper is known as the "master spice" because it keeps for years without losing its flavor aroma. You should check before buying spices. Simple actions like sorting moldy grains, proper drying, using appropriate packaging materials and proper storage methods limit the contamination in spices.
References:
https://fssai.gov.in/…/Compendium_Food_Additives_Regulations_29_03_2019.pdf.Accessible on : 29.05.2019
Enquire Now
To enquire about our services please complete the form below and we will be in tough with you as soon as possible
Food Regulatory Services
Consumer Product
Compliance Services
Licenses